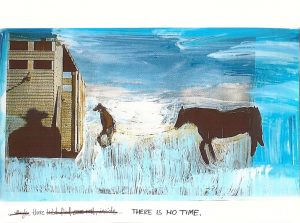 carol5 …
… is  a website for texts, art and culture.
It is an interface between the different rooms, in which Constanze Böckmann is working.
You can enter the different rooms over the menu.
On DAILY you find the latest posts.
WORDS is the room with the writing desk. Here you can see some off what I wrote lately. There is prose, poetry and essays. There are text on artists and for catalogues, websitetexts, columns, reports and articles.
Who wants to know more about my writing or wants to order a text, can take a look on kunstschreiberin.de (The site is under construction now.)
The next room is called PICTURE  and shows my work as an fine artist: current exhibitions, workdocumentation projects, lately created pictures, collages, drawings, objects.
On VIDEO and AUDIO you can look at videos and listen to some of my podcasts.
Who wants to know more about my art, can visit constanzeboeckmann.de. (It'will be released soon.)
The WORKSHOPLABORATORY is coming up soon. It is the space for artistic research. You will find results and founds about certain topics. The recent ones are ON Happiness, Silence/Sound&Rhythm of the world, Bodywork and Qigong and Research on creativity. You can also look up the topics on the tags on the sidebar.
VIEWCHANGE – Here exhibitions and projects are documented, on which I was curating or was involved in the implementation. (It'will be released soon, too.)
***
"… things are connected with each other. They don´t have an own, seperated in its self closed reality..- they are looked at as existing because of conventions and by naming them." (The Dalai Lama in texts on Tsong-Kha-pa)
*****