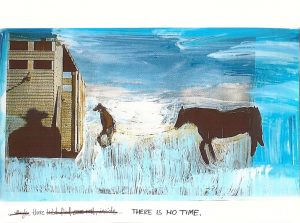 carol5 …
… is a site for poetry, texts, art and culture.
Those who want to know about my writing, or need texts themselves, editing, proofreading or help with writing, are welcome to visit my website kunstschreiberin.de.
If you are interested in my work as a visual artist, you can find more information on my website constanzeboeckmann.de.
The WORKSHOPlaboratory is currently still under construction. It serves the artistic and interdisciplinary research. Here, research results on specific topics are shown.
Current areas are ON Happiness, Silence/Sound&Rhythm of the world, Bodywork and Qigong and Creativity developement. First entries on this will soon be available under WORKSHOPlaboratory here on carol5.
***
"… things are connected with each other. They don´t have an own, seperated in its self closed reality..- they are looked at as existing because of conventions and by naming them." (The Dalai Lama in texts on Tsong-Kha-pa)
*****      

Vita
1975 born in Berlin, Germany Group Aufbruch (Offspace Cinema)
Apprenticeship for Stonemason in Berlin
2001-2009 Studying Fine Arts (Sculpturing/other visual media) Fine Arts School Dresden
2009 Diploma Fine Arts (Bildende Kunst)
2012 finished master-class
2012 – 2019 artist and writer, online editor/webdesigner, free teacher for artworkshops (children, teenagers, adults)
2019 – 2020 artistic director of the Werkgalerie/Kreative Werkstatt Dresden e.V.
since 2021 artist and writer, teacher
On my artwork
I develope my artwork between the tension of concrete topics and out of my intuition. Material of research is interwoven with pictures and drawings. Sounds and videotakes are condensed, referring to one certain topic or picture. Often there is a kind of poesy which is within the things. Sometimes it cristallizes and comes out, by working that way. On the other hand there are conceptional works, such as painted words or text, placed on walls or floors. Or graffiti-like window papercutout-pictures or performancevideos. Voices are speaking up interfering in word-performances. There are at least three readers who read out loud different texts. This texts are based on certain newspaperarticles, lyrics or noveltexts and poetry to one topic. The sound of reading voices, one by one or all mixed togehter, makes the words clearer or cuts them down to be unrecognizable. Starting from a find, a story, a daily news topic, an atmosphere, a move or just out of the pursuit with a topic, a place, its story, I develope my works. Like a puzzle it is growing steadily and becoming visible. Drawings, painted words, collages, videos, photographs and lyrics stand for themeselves or become one picture together. And I build environments with different materials like wax, objects, media. The material can speak out for the picture, which it is building.  
Exhibitions*Projects*Scholarships
2022 moreTIGHT, Artistexchange D/POL, Gallery Runde Ecke, Riesaefau, Dresden
2021 TIGHT, Künstlerinnenaustausch D/POL, Galerie Kunstgehaeuse Dresden
2020 LOJP goes Freital, Galerie Brücke22, Freital;
2020 DIALOG 20/20, LOJP in der Werkgalerie, Dresden;
2019 100 JAHRE FRAUENWAHLRECHT, Sächsischer Landtag, Dresden u.a.;
2019 FÜR LOUISE, Lyrik, Meißen;
2018 OUT OF THE BLUE, 4+4 minds Dresden-Praha, Ausstellungsprojekt Gruppe LOJP mit Prager Künstlerinnen, Galeri1patro, Prag;
2018 SAG NICHTS. Sie bestimmt. Im Bett mit John Klein, Soundperformance im Rahmen der Filmreihe Voices of Change, Kunsthaus Dresden;
2018, Lesung, Studio Else Gold, Meißen;
2017 ONE MOMENT 4+4 minds Dresden-Praha, Ausstellungsprojekt Gruppe LOJP mit Prager Künstlerinnen, Galerie Drei, Dresden;
2017 10 Jahre Maulkorb, Gruppenausstellung, Runde Ecke/GalerieAdlergasse, Dresden;
2016 Splitter und Deutung, Gruppenausstellung in der Galerie Hinten Chemnitz;
2016 Lesung, Literaturfest Meißen;
2015 FRAUEN – Gruppenausstellung, Leseperformance, Sächsischer Landtag, Dresden;
2015 Leseperformance – Ausstellung Manja Barthel, Kunstgehäuse, Dresden;
2015 FiftyFifty Kabinettausstellung, Galerie Ursula Walter, Dresden;
2015 Arbeitsstipendium der Stadt Dresden, Amt für Kultur-und Denkmalschutz;
2015/2016 auf den Kopf, Gruppenausstellung in der Galerie drei, Dresden;
2015 Künstlermesse Dresden – Leseperformance, Dresden;
2015 Dunkel und Licht – Gruppenausstellung, Rathaus Galerie 2.Stock, Dresden;
2014 spraka – Einzelausstellung, Leseperformance, contemporarySCHAU, Dresden;
2014 Testing Ground, Revolving Stars Shaky Grounds, Festspielhaus Hellerau, Dresden;
2014 LUMEN – Gruppenausstellung, Galerie Drei, Dresden;
2014 Maulkorb release – Gruppenausstellung und Lesung, Hole Of Fame, Dresden;
2013/2014 Teilnahme an FAST (Framing Art Science & Technology) HfBK, HTW und TU Dresden;
2013 Nikomaten Werkschau No1, Veränderbar, Dresden; 2013 Sichtbetonung 8, FriedrichstadtZentral, Dresden;
2011 Ich kenne hier niemanden, mit Anne Klein, Fischladen, Dresden 2010 Fallstudie, Oktogon, Dresden;
2010 Exit only, Atelierhaus Carolaplatz, Dresden; 2009 The Last, Diplom, HfBK Dresden;
2007 Weißabgleich II , mit Constanze Nowak, Senatsaal der HfBK Dresden;
2007 FriedrichstadtZentral, Dresden, Videoarbeit im Rahmen der Tanzwoche;
2006 Cynetart im Kunsthaus Dresden; 2006 Weißabgleich mit Constanze Nowak, im Kurzzeitprojektraum 2.OG li, Stauffe 11, Dresden;
2005 Feel safe-be free Digital Art Awards; Rödermark bei Frankfurt am Main;
2003 Das Wachszimmer HfBK Dresden (75m3, Projektraum) ;
1998 Marstall, Berlin , Loop – Raum für Kunst; Reflexionsausstellung im Rahmen der Ausstellung Centerum Censeo, mit Guilliana Middelhoff, Direktkanditatin von Chance 2000 (Gruppe Aufbruch);
1997- 2000 Gemeinschaftsausstellungen in Berlin;
1997-1998 Gruppe Aufbruch (Kino und Kulturraum Das blaue Licht), Berlin.
Publications:
2021 Performancetexte for ARK Dresden – "Arch for underestimared knowledge"
since 2021  Reports forthe DNN (Dresdner Neuesten Newspapers)
2020  shortstory in the "Zeile" – District magazine Johannstadt Dresden
2019  Poem in "Für Louise…"
2018  Das Zündblättchen Nr.85, Poetry: Constanze Böckmann, Graphic: Andrew Niss
2017  Report in the catalogue on the Performanceproject "Spiegelmarsch" from Svea Duwe
2014/2015/2016 poetry in DER MAULKORB
2009 translation (D-EN) in the catalogue of the project "heimtransmobile" von Ulrike Nikutowski
Prizes/Scholarships:
2022 Scholarship of the Art Fund Foundation (Stiftung Kunstfond)
2015 Scholarship of the city of Dresden
Collections:
Rosa war hier (Videoarbeit) im Frauenstadtarchiv Dresden.